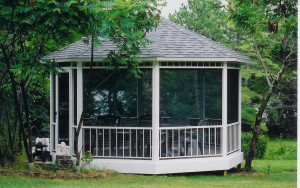 How nice would it be to have a Gazebo in your Southwest Florida yard?
You could enjoy sitting out there with your family, friends, or just meditating.
All without being bothered by flying insects.
We can construct or repair a Gazebo right in your yard, or anywhere you would like it.
Enjoy the outdoors again, this is the season to be outdoors.
Get an awesome screened gazebo today!